Research
The theme that best captures the various research projects in our group is the study of collective dynamics phenomena in living systems, ranging from the interactions of many proteins at the nanoscale to many organisms at the population level. We predominantly use theoretical models and simulations to study these systems, though always in close collaboration with experimental groups. At present, we pursue three active lines of research: collective dynamics of self-propelled particles, collective dynamics of membrane-embedded proteins through membrane-mediated interactions, and the role of mechanics in early embryo development.
Collective dynamics of active soft particles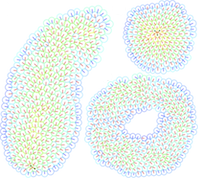 Soft particles are particles that can deform when they touch each other, resulting in a finite repelling force (rather than an infinite one, which is the case for hard particles). Both soft and hard particles undergo a jamming transition when their density gets above a certain critical value. When jammed, the particles have no degrees of freedom and thus can not move. We are interested in the case that the particles are self-propelled, which may both cause them to become jammed more quickly, and help them to break up a jammed cluster. To study this system, we use Brownian-dynamics like simulations as well as analytical techniques.
In our simulations, we use only local interaction rules, based on interactions with neighbouring particles, tendencies to align with local velocity fields, and boundary effects (e.g. wanting to go into a group when on the edge). From these, we find different kinds of behaviour, such as collective diffusive migration and torus formation. The type of behaviour we obtain is not only set by the interaction parameters, but also by the group size - so even though the rules are local, global variables still can determine the resulting patterns.
In collaboration with groups in Delft, Leiden and AMOLF, we apply our simulations to a range of real-life systems, ranging from macroscale beetles to microscale amoebas.
Membrane-mediated interactions
All biological membranes consist of two components: a bilayer of lipids (blue particles in figure on the right) and membrane-associated proteins (schematically indicated by the red triangles). The lipids have hydrophilic heads and hydrophobic (oil-like) tails, which causes them to self-organize into bilayers in water. Becuase the lipids are roughly cylindrical in shape, these bilayers can be large, and essentially form a continuum of lipids, that act as a two-dimensional fluid. Proteins with a hydrophobic part may embed in that bilayer and become integral part of the membrane. Through their functionality, the proteins also turn the membrane from a passive barrier to an active component of the cell or organelle it encloses. Proteins come in a rich variety of shapes. If they are not the same size and cylindrical shape as the membrane, they will locally deform the lipid bilayer to match their particular shape, such as the cones in the image. Much like two heavy balls on placed a mattress will attract each other through deforming the mattress, two protein inclusions will interact through the deformations they impose on the membrane. We study these interactions, in the setting of both flat and strongly bent membranes, and investigate how the membrane mediated interactions between the proteins drive cellular processes like tube and vesicle formation and membrane fission.